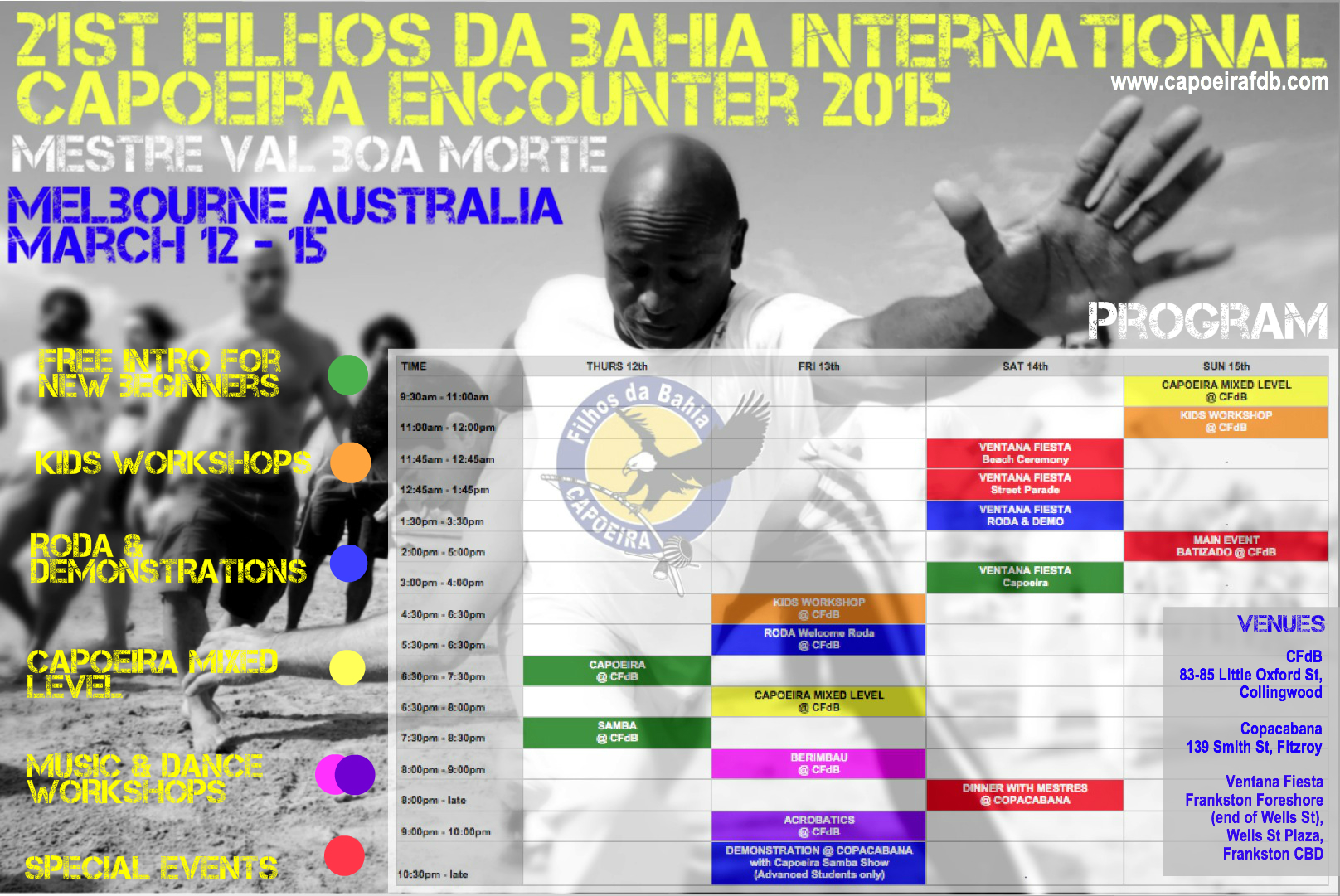 AXE!!
The 21st Filhos da Bahia International Capoeira Encounter 2015 is almost here! Check out the PROGRAM!
This year, along with all of the usual Capoeira Workshops, Rodas & Demonstrations, we have some exciting Special Events as part of this year's Program.
MAIN EVENT – Batizado is on SUNDAY 2pm – 5pm – Please bring your Family & Friends to share in the ENERGIA & AXE of CAPOEIRA wit our Special Guests present – ALL WELCOME – FREE!
VENTANA FIESTA – Beach Ceremony for Yemanja – Orisha Goddess of the Ocean & Sea! WEAR WHITE with Blue Beads – All Welcome – FREE
VENTANA FIESTA – Street Parade! – All Welcome – FREE
DINNER WITH THE MESTRES @ COPACABANA – Join the Mestres for a Brazilian Dinner at Copacabana Restaurant – All Welcome – $50 (TO BOOK: Contact Mestre Val)
also.. there are so many wishing to START Capoeira at the moment:

FREE INTRODUCTION FOR NEW BEGINNERS in Capoeira & Samba @ CFdB & VENTANA FIESTA Frankston!
TO BOOK: Contact Mestre Val Boa Morte | 0448801192 | mestreval@capoeirafdb.com
OR to Pay by PayPAL >> >> click HERE
**ATTENTION **
Note: BEGINNERS Capoeira & Samba Workshops are ONLY FREE for INTRODUCTION Students: people who are trying Capoeira for the very first time ever. Ordinary prices apply :)
*VENTANA FESTIVAL Capoeira Workshop & activities are FREE for everyone to participate! Capoeiristas – please bring your WHITE UNIFORM & Ladies, feel free to WEAR WHITE with Blue Beads for the Yemanja Ceremony & Parade! AXE!!