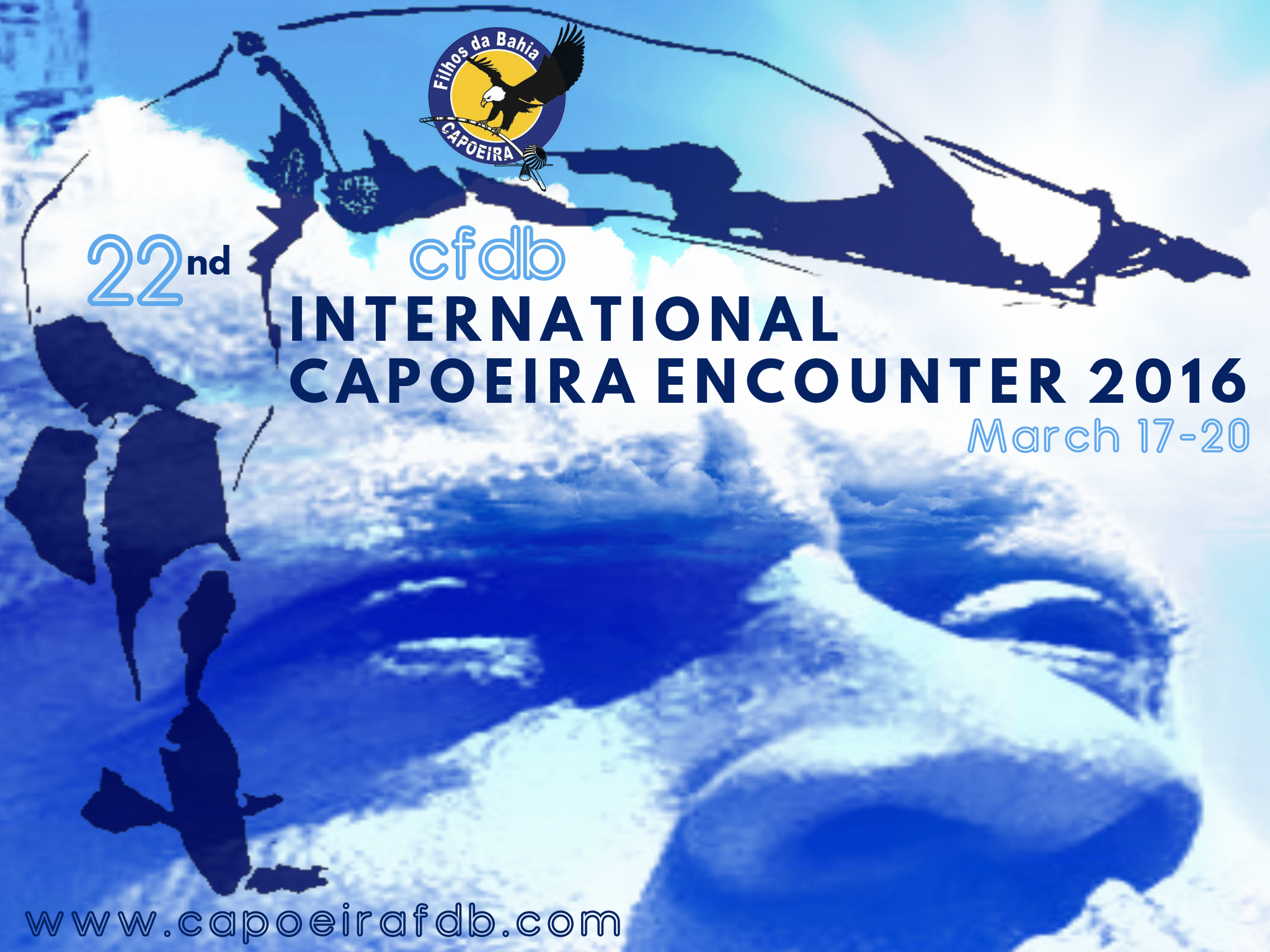 It's THAT time of the Capoeira Calendar AGAIN!
Batizado time :) THIS YEAR will be Mestre Val's 22nd Batizado event, so let's do this :) !!
Batizado Event time, is the Capoeira students' opportunity to, re-commit to their Capoeira training, meet more of the Capoeira Community from the wider World, an opportunity to participate in the ritual of Grading & being recognised for the training & the things you have learned since last year! :)
For some, its a time to learn new things that they haven't been exposed to, for others it's a time to reconnect with old friends or old teachers, remembering what already has been and it's also a time share your own wisdom and catch up on things we may have forgotten you know!
<<< STAY TUNED FOR PROGRAM UPDATES >>>
To learn more about WHAT IS BATIZADO – CLICK HERE
To learn more about the CFdB GRADING SYSTEM & PHILOSOPHY – CLICK HERE

JOIN our Facebook Event Page

MARCH 17 – 20, 2016
in MELBOURNE, AUSTRALIA
CFdB Academy
83-85 Little Oxford Street, Collingwood VIC 3066
www.capoeirafdb.com
TO BOOK:
Contact Mestre Val Boa Morte
0448801192
info@capoeirafdb.com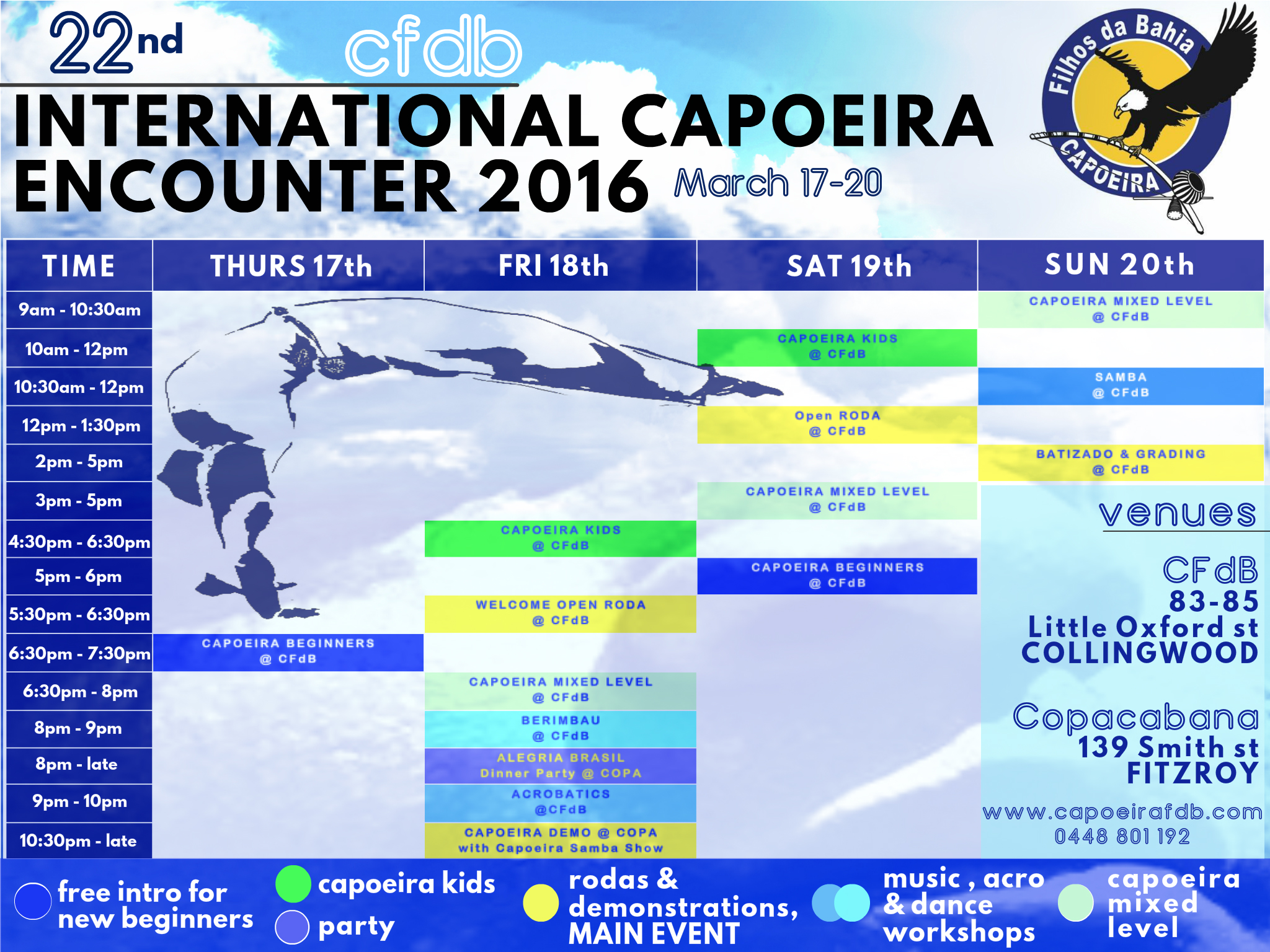 CFdB 22nd International Capoeira Encounter 2016 FULL PROGRAM
Rodas, Batizados & Demonstrations
Friday 18th Mar 05:30 – 06:30pm –Welcome Roda to everyone@Cfdb School
Friday 18th Mar 10:30pm @ COPA as part of Capoeira Samba Show Advanced students only
Saturday 19th Mar 12:00 – 1:30pm Roda to everyone@Cfdb School
Sunday 20th Mar 02:00 – 05:00pm Batizado & Grading Free Entry to everyone@Cfdb School
KIDS Workshops
Friday 18th Mar 04:30 – 06:30pm – Mestre Amen Santo
Saturday 19th Mar 10:00 – 12:00pm – Mestra Meirelou
New Beginners Free Introduction
Thursday 17th Mar 06:30 – 07:30pm – Capoeira @Cfdb School Contra-Mestre Versatil
Saturday 19th Mar 05:00 – 06:00pm – Capoeira @Cfdb School Mestre Borracha
Mix Level – Capoeira, Samba, Berimbau and Acrobatics
Friday 18th Mar 06:30 – 08:00pm – Capoeira @Cfdb School Contra-Mestre Versatil
Friday 18th Mar 08:00 – 09:00pm – Berimbau @Cfdb School Mestre Amen Santo
* Berimbau $25 BYO, $35 not BYO ($170 includes Berimbau)
Friday 18th Mar 09:00 – 10:00pm – Acrobatics @Cfdb School Sebastiao
Saturday 19th Mar 03:00 – 05:00pm – Capoeira @Cfdb School Mestre Amen Santo
Sunday 20th Mar 09:00 – 10:30am – Capoeira @Cfdb School Mestre Borracha
Sunday 20th Mar 10:30 – 12:00pm – Afro @Cfdb School Mestre Amen Santo